One Million to One
BOTKYRKA KONSTHALL, SWEDEN
LEAD ARTIST: ALEKSANDRA WASILKOWSKA (PL)
ARTISTS: NAOMI DRAPER (IE) LUIS FILIPE ROCHA (SE) AGNES MOHLIN (SE) MAGDA WĘGRZYN (PL)
The period between 1965 and 1974 saw a new phase in Sweden's architectural history: the Million Programme (Miljonprogrammet). More than one million homes were produced in a very short space of time to meet the great shortage of housing at the time. It was a project based on a utopian dream of a good life for all but many of the areas it produced were soon drawn into a negative light and have increasingly earned a bad reputation.
Fittja was developed as part of the Million Programme in the southern suburbs of Stockholm in keeping with the architecture based on the modernistic paradigm: mass production, segregated spaces and standardized architecture.
In the project One Million to One we reverse the modernistic paradigm where society is perceived as a mass that can be controlled and easily repaired by master plans and rational arguments. Our strategy is to switch from largescale to micro, unique and intimate gestures, from a million to one.
The starting-point for our work was the critical view on an existing context and tactics already produced. Our aim was not to invent or produce new knowledge but to reinterpret and add another layer to an already existing frame. During our residency, research and meetings with local artists and architects we discovered the publication SUPERFITTJA, an archive of artistic and architectural works dealing with different aspects of Fittja.1 The majority of the projects presented in the publication refer to the ideas of the sixties and seventies, like the utopias formulated by the influential architecture firm Superstudio; a dream of finding big solutions through the analysis of patterns, structures, flows and rules. The only project that focused on the human aspects and personal history was a work by Astrid Linnér called Meeting Zöhre, which, instead of analyzing buildings, focused on one person: "I have been working with Zöhre as an architect, redrawing her apartment. I did not find spectacular architectural dreams. I found out that the basic standards are very low and that she dreams of a clean bathroom."
Continuing with this dream of a 'clean bathroom', our project can be considered as an additional layer on previous matter, a site-specific installation or exhibition as a gift from five independent artists to Zöhre. We consider Zöhre a one-person audience and we devote our work uniquely to her private view.
Zöhre has worked and lived with her family in Fittja for forty years but just like a large part of the population of Fittja she was born elsewhere – in Kulu, a small town in central Turkey. According to Slavoj Žižek the history and the shape of the toilet could be a reflection of national identity as well as being ideological – and the way we use it may reflect an entire society. Through the toilet and the bathroom – the smallest part of our domestic space – we want to rethink the notion of modern architecture, progress and regression, rituals of purification and modernist hygienic arguments; we are also looking for hybrid identities where different taboos, rituals, habits and cultures meet and the social protocol is shaped by this intimate space.
One Million to One is an exhibition that is dedicated to one person alone and her specific view. The exhibition challenges notions of 'audience' and 'artwork' in which the exhibition is usually the final destination of an artwork, a point where the work is presented to a broader audience. The art experience should usually be accessible to as many as possible. In One Million to One, the artist reverses Duchamp's Fountain gesture in which an everyday object, a urinal, was reformulated into an artwork. Instead the artwork returns to the bathroom and becomes an exclusive object, hidden from the view of the broad public. Art is not eternal – it changes and vanishes, melting into our everyday lives with their invisible rituals and taboos. Or, as Stephen Hicks summarizes Duchamp's message: 'Art is something you piss on.'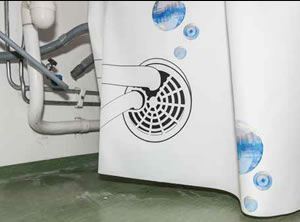 Agnes Mohlin
A Room of One's Own, Shower curtain (2014)
Agnes Mohlin decided to create a shower curtain, a second door within the bathroom, something to hide behind that allows you to be yourself, and to be by yourself. In her curtain she has incorporated the lock and the drain – the two most crucial elements to the bathroom – and bubbles, the act of cleaning. In some of the bubbles, Fittja is reflected; the view from the small bathroom window, whilst other bubbles contains the symbol of the evil eye; a symbol of protection in the mediterrean. which Zöhre already has on her bathroom textiles- the symbol of protection.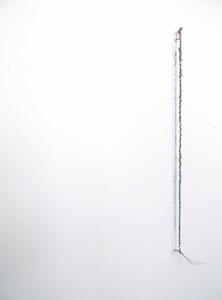 Naomi Draper
Stretching a Line
In her work, Naomi Draper wanted to examine the toilet/bathroom in relation to the site of Fittja that translates as beach meadow or moist place in Old Swedish. The name accurately describes the natural environment that surrounds the suburban area with its vast meadows and located by a lake. Access to nature was important when planning the Million Programme, as it would contribute to the wellbeing of the citizens. Naomi wanted to explore the commonalities between the private bathroom space and the reed beds found at the shore of the lake by Fittja, both as places that functions to cleanse and purify.
For the exhibition Naomi created a sculpture/drawing that reflects the process of planning, plotting and surveying when building architectural spaces. Zöhre was asked to identify and mark out the area that she would propose to change. Then Naomi, with the use of a chalk line made up of a braided reed rope, created a chalk line drawing that will fade and wash away as the space is used.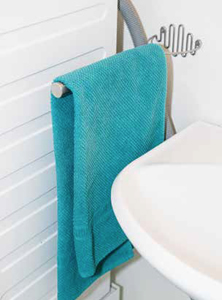 Luis Filipe Rocha
Untitled Genitive, Potato masher, towel (2014)
Inspired by Zöhre's husband who expressed an irritation about not having a good place to place the towels, Luis created an addition to the bathroom in the shape of a ready-made sculpture. In the winter 2012 Luis Rocha bought a kitchen utensil for mashing potatoes with the intentions to make a Shepard's pie. This was one out of three objects that made him feel at home in the house that he had just moved into. However, next time he moved the potato masher never made it into the kitchen, instead Luis placed it on his working desk, amongst books and other materials, all the time with the haunting feeling of that it should be used for something other than mashing potatoes. When Zöhre's husband expressed the wish to hang the towels in a proper way, folded instead of hanging, Luis got an epiphany. The potato masher never went back to the bathroom.
Luis' sculpture in the bathroom intends to fuse two cultures. One will perform in a new function and the other will provide identity and write history.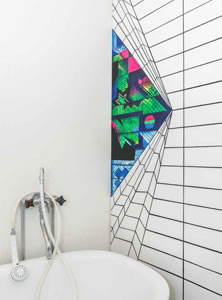 Magda Wegrzyn
Hidden from the Gaze, Acrylic paint on canvas (2013)
Magda Wegrzyn wanted to work with painting as a medium in order to visualize Zöhre's private gaze as well as thoughts when she was alone in her bathroom. The initial plan was to draw directly on the tiles that were supposed to be mounted in the bathroom, but when the renovation plans got cancelled, Magda decided to paint tiles on a canvas instead, measuring the size of one of the bathroom walls. In the left corner of the painting the tiles are unfolded, unveiling a glimpse of Kulu, the Turkish village in which Zöhre was born.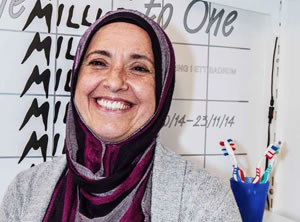 Aleksandra Wasilkowska
Modern Splash, Sound (2014)
Modern Splash is a sound specific installation, a muzak composed specifically for Zöhre's bathroom. The piece transforms Mozart's music into a toilet sonata and acoustic perfume. The toilet became an instrument replacing a piano in his popularly known "Turkish March". Originally, the last movement of XI Piano Sonata imitates the sound of a Turkish Janissary band which was much in vogue in Europe in the 17th and 18th centuries and inspired some of the most prominent European composers like Mozart, Haydn and Beethoven. They incorporated a Turkish style in their works and up to day the musical style Alla turca seems to serve as a form of musical relaxation or entertainment. The influence of Turkish music in European classical music didn't evaporate until today. The use of the slang term "Turkish section" to describe the percussion section of an orchestra persisted into modern times. Modern splash is an acoustic hybrid that, in a Duchampian gesture, cross cultures that never coexists – sanitation with sonata as a metaphor for fluid European identity where different flows meet.
Aleksandra Wasilkowska – Poland
Aleksandra Wasilkowska is an architect and artist based in Warsaw. Her main interest is the informal and self-organising spaces denied from the official discourse like stalls, bazaars or toilets that she calls Shadow Architecture. She works within different media like books, installations, scenographies, architectural projects and urban strategies. She represented Poland in the Venice Architecture Biennale in 2010 with Agnieszka Kurant.
Recently she exhibited her works in MoMa in Warsaw ´'What we can see' showing artistic scene of the last decade and 'Slow Future' in CCA in Warsaw about the notion of degrowth. She is working with the on-going art project 'Bazaristan' that has become a frame to work with different cities on renovation of existing bazaars like the oldest existing bazaar in Warsaw Bazar Rozyckiego.
Naomi Draper – Ireland
Naomi Draper's multi-disciplinary practice explores the fragility of our built and natural environment, investigating what defines space and how it is lived and activated by humans and non-humans. Combining a range of mediums and processes particularly through drawing and glass, Naomi examines the structures and boundaries, limitations and new potentials of public and private environments.
Agnes Mohlin – Sweden
I am an artist and architect working with objects and words. I would say that my art deals with bodies, spaces and the power to control and define them. I explore these subjects through sculpture and buildings. In my view, people as well as power structures are material things, they are palpable and in no way abstract.
For a long time, I have been focusing on the bathroom, both in my practice as an artist and as an architect. The bathroom is like a vent in a culture where the most basic things are forbidden and seen as embarrassing. It is a room to be locked, and a space where one manages the body and all the dirt it produces; there is a drain that swallows all that is produced, like a black hole.
Recently I have started to work with stone, trying to make monumental works still closely connected to the body and the intimate world around it. I enjoy the paradox of trying to communicate these feelings through the hard material of stone. I like it when things get flooded, when stuff is flushed away or when the body overflows with emotions in the form of tears, or words.
Luis Filipe Rocha – Portugal/Sweden
Luis Filipe Rocha was born in Coimbra, Portugal but has been based in Sweden since attending the course Mejan Arc at the Royal Institute of Art in Stockholm in 2011. He has previously studied art and architecture at the University of Coimbra where he graduated in 2005. At thethis time he was also engaged in performingative arts, working as an actor, scenographer, director and producer.
Luis sees his practice being formulated somewhere in the interstice between academic research and an experimental, garage DIY-approach, influenced by the avant-garde. Luis developed his own visual and conceptual vocabulary involving a great span of architecture, photography, sculpture and social theory. He has worked as an architect in Barcelona, London and on the Island of Mozambique focusing on the relationship between cultural heritage and contemporary arts.
His artwork is always characterisized by the use age of reused materials, industrial refuse and construction leftovers. For him these are pieces of a puzzle '"where nothing else can be added and from which nothing can be retracted'". Philosophically, no question should remain unanswered and no answer should remain a question, which allows him to become easily seduced by paradox, interdisciplinary and vernacular sensitivity.
Magda Wegrzyn – Poland
Magda Wegrzyn is a visual artist, doctoral candidate and independent curator. Her work addresses questions of perception, digital technologyies and communication in tune with aesthetics, and the medium of painting. Speaking ofWith painting – from the context of digital technology – she calls upon a tangible contact during the process of interaction with it. Her current interests reflect upon articulation in painting, in tune with visual rhetoric – understandingus the communication of the visual image as contrary to in contrast to the verbal message, the s and function of the image and its impact on the public. She examines how digital culture affects the perception of a medium in the case of both: a painter and a receiver. She is interested in Claude Shannon and Warren Weaver: The Mathematical Theory of Communication and its possible use in art. Magda was has been honoured with several fellowships and has participated internationally in various solo and group exhibitions since 2010. In 2012 she collaborates with the Center of Contemporary Art in Torun, Poland. Her work has been featured in various magazines and portals such as: Art in Berlin, Musli Magazine, Notes Na 6 Tygodni, Poland Art and Artinfo.