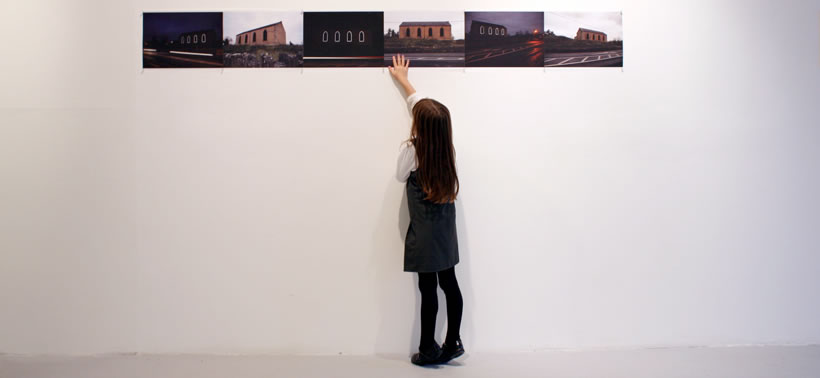 Second ['sīt]
LEITRIM SCULPTURE CENTRE / LEITRIM ARTS OFFICE, IRELAND
LEAD ARTIST: JAROSŁAW KOZAKIEWICZ (PL )
ARTISTS: ULRIKA LARSSON (SE) KATHY O'LEARY (IE) NIALL WALSH (IE) NATALIA WISNIEWSKA (PL)
Second ['sīt] was the culmination of three months work in the town of Manorhamilton by four artists Ulrika Larsson, Kathy O'Leary, Niall Walsh and Natalia Wisniewska who worked under the direction of Jarek Kozakiewicz. The point of departure for this project was a series of workshops during which the participants worked out individual concepts regarding public space.
The title carries two meanings: 'Second Sight' and 'Second Site', written phonetically. In English the pronunciation of both words is the same. The title points to another (new, refreshed) way of looking at places. Places, situations, afterimages of history, which have become part of Manorhamilton inhabitant's daily life, which can be seen through the eyes of the artists in a new way. This second, refreshed way of looking, which the artists of the work share with the inhabitants, gives these places/ situations a new possibility of existing in the consciousness of the local community.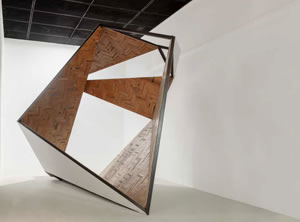 All the projects have a site-specific character, although some were realised in the gallery space of Letrim Sculpture Centre. Some were related in a physical way to a specific location, others to the characteristic features of Manorhamilton in general. They became a sort of comment to the contemporary condition of the town and its inhabitants. They refer to the past and at the same time point our thinking towards actions which can improve quality of living in the future.
In each of the works of these four artists there is a perception of the town through individual interests and experiences. The public space here is very widely understood. From an abandoned church, through a citation for the present which is a counterpoint to the past, via social problems for inhabitants here and now, to critics of urban solutions, seen from the perspective of personal experiences.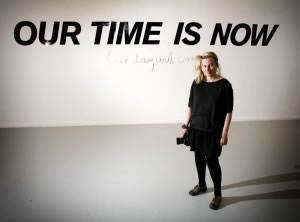 At the time of Ulrika Larsson's first stay in Manorhamilton, "Our day will come" was a pop song about love by Ruby & the Romantics. In the course of a conversation with a citizen of Manorhamilton she learned about the historical aspect of the expression within the confines of the Irish politics. Influenced by the conversation in Manorhamilton, she formulated the answer "Our time is now" to the historically burdened expression "Our day will come". Aesthetics is the apparent code of cultural identity and therefore also a limit. As the title suggests, the limit as such is the focus of my work. The boundary that defines the present from the past, classes, countries, and unions. Invisible limits that we all relate to.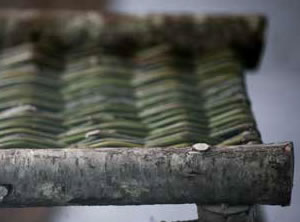 Niall Walsh's project 'Sentries' substitutes local men for the official forces in the identification and preservation of public space. Throughout the residency, Niall worked with a group called 'The Men's Shed' in Manorhamilton. This group is part of a growing phenomenon which provides a space for men to gather, communicate and work, with the aim of creating a non-confrontational atmosphere where the men can talk about their lives and the highs and lows which they may be confronting. Having identified sites for the erection of public seating around the town, the group were involved in the design and manufacture of the seating. The Locis exhibition contained a selection of photographic portraits of participants in the 'SENTRY' project, documentation of the process involved and examples of the seating that was developed.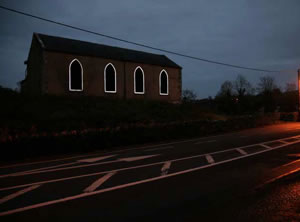 St. Clare's Hall on the outsirts of Manorhamilton captured the attention of Natalia Wisniewska because of the austerity and harmony of its outline. The sole decorative forms are four arched windows which are now shut down with plywood. Her attention turned to transposition of meaning and the swing, oftentimes very surprising, of sacred buildings – synagogues changed to serve as city baths or cinemas, Christian churches into art galleries, hotels and pubs. Everywhere there is a slow decay of sacrum unto profanum – in the case of St. Clare's Hall, the building is awaiting an inevitable end when it will undertake a new use. 'Phantom and Spectre' transformed the windows into 'anti-windows of stained glass' – black facets with band of light on the edges giving the impression of glowing light from inside.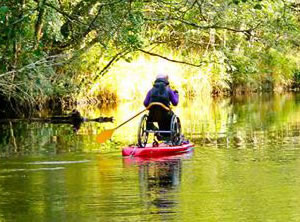 Kathy O'Leary's film 'Second Sight/Site' developed for the Locis exhibition draws on personal experience. As a wheelchair user, her experience of access difficulties brought to mind the theoretical concept of a wormhole within which a passage through space-time could create shortcuts for long journeys across the universe. With a Go-Pro camera attached to her she captured footage that looked from the different perspective of a wheelchair user. With the purpose of creating further dialogue around these topics, the film depicts a satirical wormhole journey through the urban and rural landscape as if travelling through space and time into different dimensions and environments.
Jarosław Kozakiewicz – Poland
Jarosław Kozakiewicz works at the intersection of art, science and architecture. His practice is inspired by artistic-architectural projects including contemporary ecology, genetics, physics, astronomy and ancient cosmological concepts, which relate microcosm with macrocosm. Identifying an analogy between the human body and the natural world, Jarosław questions the anthropometrical character of Vitruvian man as the traditional paradigm of architecture. Instead, he proposes an organic paradigm, a `geometry of the inside´. His quest has led him to utopian and critical architectural and land-art projects. Some of them have received prizes in major architectural competitions. In 2007 Jarosław's Mars Project, a massive redesign of the landscape of a former lignite-mining area near Lake Baerwalde in Germany, was completed. It takes the form of rolling landscape shaped like a giant human auricle. Other projects include proposals – often utopian schemes – for ecological or symbolic solutions in the field of urban planning (Transfer, 2006) or architecture (Oxygen Towers, 2005). In 2006 Jarosław represented Poland at the Venice Biennale of Architecture.
Ulrika Larsson – Sweden
A primary concern of Ulrika Larsson's work relates to what she refers to as our situation, and the impact that situation has on us, and our bodies. Much of her work in recent years has focused on examining what happens within a social context if the assigned role of an individual is ignored. Who is allowed and given opportunity to speak? Ultimately, this is a question of power and democracy.
Her method in several projects has been to combine strategies taken from documentary, film and portrait photography to examine positions of identity. In Blonde on Blonde she invited Carolina Gynning, a Swedish celebrity, to exchange roles with her. She worked with The Power of The Situation – how we are dressed, what role we play and whether we are anonymous or identifiable or not. The film structure is worked out from impressions from The Stanford Prison Experiment conducted in 1971 by psychologist Philip Zimbardo; a pioneering research experiment that ignored the individual inside.
Natalia Wiśniewska – Poland
Natalia Wiśniewska lives and works in Toruń. Her practice is diverse encompassing objects, site-specific installations and performance art. She is also interested in experimenting with sound as a separate artistic medium.
Her work is often using the social and cultural context where she explores relationships based on syncretic influence, contrast, and inversion. She is searching for the private and intimate stories expressed through language with all its semantic range of references. There is also an interest to reach the unspeakable and the latent meaning of the word, in a quest to analyse the human condition and redefine thinking.
Kathy O'Leary – Ireland
My visual arts practice involves creating and developing a particular goal towards inclusion and participation within an artistic and research context.
Early in my career my interests in communicating interpretations of the body and the landscape became a cohesive language. I often include my own body within this lexicon. In recent years collaborations with artists, musicians, performers and technicians have created new interactive audio / visual artworks.
As an artist my work is multidisciplinary and includesing processes such as drawing, printmaking, video, sculpture / installation, photography and interactive media. These layers conceptualise and create reflections on the ever-changing world by utilizing the abstract space in-between to create a unique perspective and pliable structure. These have become my methods for navigating the blurry terrain of memory and imagination, reflecting my viewpoint of the world. I trace and retrace, retracing my path;, mapping serves as a metaphor for searching, an implication of the unknown in wide , open spaces, paralleled with my personal confines, exploring 'time and space' in my research methodologies. My practice is a transformation in breaking boundaries and borders.
Niall Walsh – Ireland
Niall Walsh was born and bred in the suburbs of Dublin in the sixties, attended an art school where he was introduced to art and learned some skills, became interested in politics, new wave and travel, went to live and work in the U.S. gained experience in working with polystyrene, and participated in some group exhibitions. He spent some time travailing and learning Spanish in Central America, returned to Ireland in the late eighties, did some work with arts administration and spent a year working on stone restoration. Started working on a series of carved wooden heads and figures, expressionist in nature. In the nineties, he moved to the west of Ireland and got involved in establishing the Leitrim Sculpture Centre, teaching and working on public commissions in order to pay for the renovation of an old cottage. He continued to participate in group and solo shows, symposia and residencies. Niall completed an MA in 2010. His work has changed to a more "socially engaged" process, bringing together concerns about politics, environment, and change, and creating the opportunity where the audience has the chance to engage with these issues.